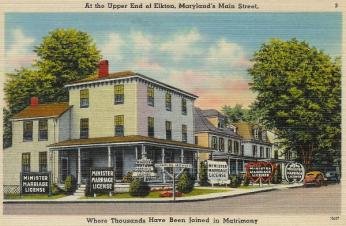 If Cupid strikes you in the heart today, you might decide to take a trip to a Las Vegas wedding chapel or your local courthouse for a quick wedding. If you wanted to get married in a hurry in the 1930s, however, there was only one place to go: Elkton, Maryland just inside the Delaware border.
As big cities grew in the 1920s and 30s, young people started moving away from their families to pursue new opportunities in places like New York and Philadelphia. Of course, when large numbers of twentysomethings move away from home for the first time into an environment with few social rules, most of them will exercise their newfound freedom and try to make their parents angry.
Cue the quickie wedding. Most states didn't have a waiting period for marriage licenses until the mid-1910s, when state legislators in New York, New Jersey, Delaware, and Pennsylvania decided that impulsive marriages were getting out of hand. These states instituted 48-hour waiting periods for couples to use their marriage licenses, but Maryland, "the free state," did not.
Location is everything in business, and that certainly was the case for Elkton. It is conveniently located in the corner where Delaware, Pennsylvania, and Maryland meet, an easy bus or train ride from New York and Philadelphia.  Elkton boasted fifteen wedding chapels on Main Street in its heyday to accommodate the influx of young couples who wanted to tie the knot. These chapels hosted thousands of weddings each year. "Marrying parsons" would wait at the local bus stop and offer package deals to enamored young couples; couples didn't have to wait to use their marriage license in Maryland, but they did have to have a church service as part of the ceremony.
Sadly, at least for impulsive young couples, the Maryland legislature became embarrassed by Elkton's reputation by the 1930s. In 1940's The Philadelphia Story, Katherine Hepburn and Cary Grant's characters had "disappointed the family" by "eloping to Maryland." (If you haven't seen that movie, definitely check it out. It's a classic.) In 1938, state officials passed a 48-hour mandatory waiting period for marriage licenses, and in December of that year, Elkton hosted its last wedding in a hurry.
Elkton is still known regionally as a wedding destination, but the industry has declined sharply over the past eighty years. The Little Wedding Chapel on Main Street is the last of its kind in Elkton now, and the parson there will perform about a dozen weddings on Valentine's Day this year. Las Vegas has pulled away most of Elkton's business, but the "Gretna Green of the West" still attracts couples of all ages looking to tie the knot while carrying on a ninety-year-old tradition.
Sources:
Berdan, Marshall S. "Elkton, Marry-land." The Washington Post, February 13, 2002.
Wyndham, Andrew. "Committed: Marriage in America." Backstory with the American History Guys. Podcast audio. July 13, 2012. Accessed February 12, 2013. http://www.backstoryradio.org.
The Philadelphia Story. Directed by George Cukor. Produced by Joseph L. Mankiewicz. MGM, 1940.