The first modern art museum in the United States was not one of the world-famous names you're probably thinking of—not MoMA or the Guggenheim in New York City, not even D.C.'s own Hirshhorn Museum on the National Mall. The country's first modern art museum was established 100 years ago in a Dupont Circle townhouse.
Yes, really. And since the Phillips Collection celebrated its centenary last year, it's a great time to remind Washingtonians that their city has a rich art history—largely exemplified by the story of this museum.
The Phillips Collection is a unique art museum, spread out through a network of old hallways and modern glass galleries. Visitors can experience the decadence and craftsmanship of an early twentieth-century D.C. townhouse. And the art displays are clearly a personal labor of love, as if they were hung on the walls of a family home rather than a major art institution. Old Masters are displayed next to works by Impressionist painters. The works of twenty-first-century artists may be hung next to the works of Vincent Van Gogh. This sense of intimacy in the museum probably arises from the fact that it was, originally, the private collection of the Phillips family—art lovers who decided to open their collection and home to the public, in the hopes that everyone could have the chance to make personal connections to art.
The Philips family—made wealthy through business, banking, and the steel industry—moved to Washington in 1895. By 1897, they were living in an impressive townhouse in the wealthy Dupont Circle neighborhood of the city, designed for them by architects Hornblower and Marshall.[1] The younger son of the family, Duncan Phillips, began to grow a dedicated interest in art—he visited the local Corcoran Gallery in Washington, the Metropolitan Museum of Art in New York City, and especially loved his vacations to the major art museums of Europe. After graduating from Yale University, he turned his love for art into a career, publishing his first major work of art criticism in 1914. He and his older brother, Jim, were so passionate about American art that they convinced their millionaire parents to grant them an annual allowance of $10,000, in order to purchase pieces for a family collection.[2]
In the late nineteenth and early twentieth centuries, the art world was becoming more experimental and controversial. In Europe, movements like Impressionism and Fauvism were becoming popular, but were still looked down upon by more traditional, "mainstream" critics. Artists that we appreciate as trailblazers and geniuses today, like Claude Monet and Henri Matisse, found themselves denied participation in art shows and events in France. In the United States, the works of Grandma Moses and Georgia O'Keeffe were considered "avant-garde" and really only appreciated in a select circle of like-minded, forward-thinking contemporaries. The Phillips brothers were among that circle, hungrily buying pieces that they believed spoke to current and future American culture.
Two devastating losses changed everything for the Phillips family. In 1917, the family's patriarch Major Duncan Phillips—the younger Duncan's father—died of heart disease. The following year, Duncan's beloved brother died during the 1918 influenza epidemic. The shock of both deaths sent Duncan spiraling into grief, but he found some solace in his art collection. "Sorrow all but overwhelmed me," he wrote. "Then I turned to my love of painting for the will to live."[3]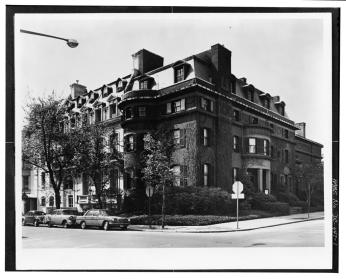 By this time, the Phillips' ever-growing collection contained over 200 pieces.[4] Duncan and his mother, Eliza Laughlin Phillips, decided to pay tribute to their late family members—especially Jim—by opening a memorial art gallery. Since losing themselves in the beauty of art had comforted them in their grief, they believed that their fellow Washingtonians could also benefit from the collection. The Phillips added a special gallery space to the second floor of their Dupont Circle home, where some of their favorite works could be displayed. The Phillips Memorial Collection opened to Washingtonians in the fall of 1921.
"It is a generous and unique thing which Mr. Phillips has done in thus throwing open his home," a Washington Post reporter commented in 1922, just a year after the Collection opened to the public.[5] When the family were in town, guests could attend afternoon showings of their collection for free. A curator was on hand to answer any questions—reference books were also made available, so students could feel free to use the gallery space for their education.[6]
In 1921, just before the opening of the gallery, Duncan married fellow art enthusiast Marjorie Acker. A painter herself, Marjorie became invaluable to the operation and growing of the Phillips Collection. Like her husband, she believed that more Americans should be exposed to the art that was coming to define their generation. The couple collected works from American artists like Grandma Moses, O'Keeffe, Winslow Homer, and Thomas Eakins—to name a few. They also incorporated modern European artists like Monet, Matisse, Pierre-Auguste Renoir, Paul Cézanne, and Pablo Picasso—again, to name just a few. While other galleries usually paid more attention to the European greats, the Phillips juxtaposed art movements in the United States and abroad, highlighting similarities and differences in the works. They also collected works by the Old Masters, such as an El Greco work, to show how modern art was influenced by works from centuries past. Visitors to the gallery could not only view exceptional works in a comfortable setting, they could experience centuries of works that told a story.
The Phillips Collection became so popular that, by the early 1930s, Duncan and Marjorie moved out of the Dupont Circle house and transformed the entire building into a gallery. In their married life, they collected nearly 2,500 pieces of artwork for their collection, all of which could be viewed by the Washington public.[7] Duncan died in 1966, transferring direction of the museum to Marjorie and then to their son, Laughlin Phillips. The gallery expanded further, adding new wings to accommodate the growing collection. The Phillips' original vision—to give voice to lesser-known modern artists, especially in the United States, and give their works as much weight as more famous names—continues to be explored in special exhibitions, new additions of photography and digital compositions, and efforts to diversify the collection.
It's this vision that gives the Phillips Collection its title of the first modern art museum in the United States—and, certainly, the most interesting and ever-changing gallery in Washington. When walking around the Phillips home, viewing artwork that has been lovingly and thoughtfully hung together, visitors can still feel the passion of Duncan and Marjorie. Modern art has always been about challenging expectations, commenting on society, and inspiring deep emotions—the Collection continues to do just that, while still showing off some of the great historical pieces that we are lucky to have in our city.
^ "Building History," The Phillips Collection, https://www.phillipscollection.org/about/building-history
^ Pamela Carter-Birken, Duncan and Marjorie Phillips and America's First Museum of Modern Art (Vernon Press, 2021), 6.  
^ "History," The Phillips Collection, https://www.phillipscollection.org/about/history
^ Ibid.
^ Gertrude Richardson Brigham, "Washington Art and Artists: Handicrafts—Phillips Gallery," The Washington Post, November 12, 1922.
^ Ibid.
^ "History," The Phillips Collection, https://www.phillipscollection.org/about/history