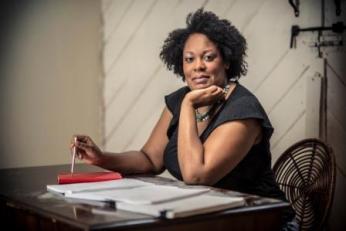 Local history isn't just for authors and documentary filmmakers. It's great fodder for artists, too! Just ask playwright Jacqueline Lawton who is currently working on a drama production entitled OUR MAN BEVERLY SNOW, inspired by the 1835 race riot in Washington, D.C.
Recently I had the opportunity to talk with Jacqueline about the project and how she melds history and art on stage. Check out our conversation below.
MARK JONES: How did you come to write this play?
JACQUELINE E. LAWTON: Active Cultures commissioned me to write OUR MAN BEVERLY SNOW. Artistic Director Mary Resing sent me a Washington Post article about a new book by Jefferson Morley called A Snow Storm in August. Set in 1835, Morley chronicles the events and key figures in one of D.C.'s earliest race riots. Since Active Cultures is interested in local history, politics, arts, and culture, this story was perfect for them.
I was intrigued by Beverly Snow's story. Snow had purchased his freedom, moved to the nation's capital and became the chef/co-owner of the Epicurean Eating House (then located at the corner of Pennsylvania Ave. and 6th St. NW). His ambition was unwavering, his culinary skills and talent were unmatched, and his artistic vision for the kind of restaurant and experience he wanted diners was extraordinary. He was ahead of his time in many ways.
MJ: How did you become familiar with the story Beverly Snow and the 1835 race riots in Washington, D.C.?
JEL: In addition to reading Morley's book, I reached out to historians at the Library of Congress and the National Archives for research. I read newspapers that reported on the riots and the two trials that followed the race riot. District Attorney and author of the U.S. National Anthem, Francis Scott Key, served as district attorney on both trials: U.S. vs. Arthur Bowen and U.S. vs. Reuben Crandall. Arthur Bowen was a young slave who drunkenly wielded an ax in the doorway of his owner's bedroom, which was the flame that sparked the riot. Reuben Crandall was an abolitionist charged with publishing seditious libels and circulating publications of the American Anti-Slavery Society. I read both trial transcripts and the diary entries of Anna Maria Thorton, the woman who owned Arthur Bowen and widow of the late Dr. William Thorton, who designed the Capitol, the White House, and other historic buildings. I learned as much as I could about what life was like for whites, German and Irish immigrants, slaves and free blacks in Washington, D.C. I also studied cookbooks, fashion trends, and popular songs of the early to mid-1800's.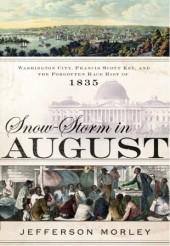 MJ: What challenges/opportunities are present when setting a play in the past?
JEL: One challenge in setting a play in the past is making sure that the issues presented and the journeys of the characters are relevant to contemporary audiences. Beverly Snow excelled at a time when many White men were struggling. As a result, he became a target of racial violence. This anger and resentment was similar to the response that President Obama received upon being elected the first African American president of the United States. This made the story relevant and I knew that I had to write this play.
An opportunity for discovery is that language is alive and constantly changing. There are words, phrases and entire sentence structures that were used in the mid-19th century, but no longer exist today. Similarly, there are words and phrases that we use today that didn't exist prior to five years ago. I love studying the etymology of words.
MJ: What has been your favorite part of writing and developing this play so far? What has been the most challenging?
JEL: My favorite part in the new play development process is researching the time period to fill out the world of the play. We're in the age of technology where a vast amount of information is at our fingertips 24 hours a day. So you have to sift through all of those resources and validate what's there. I like to do my own research and I'm fortunate to live a few blocks from the Library of Congress and a short metro ride to National Archives. I like to use primary resources as much as I can.
MJ: How do you balance historical accuracy with poetic license/art as a playwright?
JEL: First and foremost, I'm in love with the history. It's why I love the research so much. Fortunately, my brilliant dramaturg, Otis Cortez Ramsey-Zoe, is there to remind me to "free myself from history." In a play, the plot must move the story forward. A particular historical event might be interesting, but it isn't necessarily filled with conflict. And conflict is essential to drama. It usually takes three or four drafts before I get there. I work hard to adhere to language, social customs, fashion, music, art, technology, etc. I use historical events to create an outline. From there, I create probable situations that are filled with conflict.
For instance, in OUR MAN BEVERLY SNOW, I didn't find any historical evidence that Beverly Snow, Reuben Crandall or Arthur Bowen ever crossed paths with one another. However, it's far more interesting if they did. So, in my play, Reuben wants to use the Epicurean Eating House to distribute abolitionist flyers, but Beverly is dead set against it. He wants the Epicurean to be a place where everyone can eat and enjoy a meal. The two of them are left feeling quite resentful of one another, which causes a number of problems over the course of the play. Also, Beverly not only teaches Arthur how to make his secret recipe for turtle soup, but also takes him on as an apprentice. Of course, all hell breaks loose and none of that happens. But by then, all their lives are intertwined with one another and it makes for quite an interesting play.
MJ: Please explain the role of a dramaturg.
JEL: Someone who helps make the world of the play more accessible to theater artists and audiences. This could mean compiling research about the play through articles, essays, songs, pictures, and videos. It could also mean writing program notes, conducting artist interviews, and leading post show discussions. They also help playwrights develop and strengthen their plays.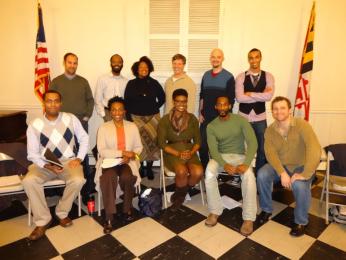 MJ: What thoughts/reflections did you come away with after learning the history of the 1835 race riot and writing a play about it?
JEL: What I learned is that OUR MAN BEVERLY SNOW is a play about revolution. It is the story of a young slave, Arthur Bowen, who in a drunken rage, picks up an ax and demands his freedom. It is the story of an abolitionist, Reuben Crandall, who--at the risk to life and limb--travels to D.C. to join in the fight to end slavery. It is the story of a reverend, Frank Cook, who preaches the word of God, and teaches free people of color how to read and write and gathers a group of Black men together for enlightened discussion. It is the story of an immigrant, Andrew Laub, trying desperately to hold on to his piece of the American Dream. It is the story of a constable, Madison Jeffers, who believes strongly in the institution of slavery, thinks very little of free people of color and despises abolitionists, but is honor bound to protect those in his custody regardless of their beliefs. It the story of a culinary artist, Beverly Snow, who travels to the nation's capital, brings culture the masses and creates magnificent cuisine. The play is also asks what is the role of the artist in a revolution. I wrote more about this in a blog post called, Our Man Beverly Snow: The Artist and the Revolution. I'm really excited to explore this question further in upcoming rewrites.
MJ: What character in your play do you identify with the most? Why?
JEL: I certainly relate to each of them, to their needs, wants, fears and desires. I would defend their choices to ends of the earth. But I identify most closely with Beverly Snow. He's a talented culinary artist with a particular vision for his restaurant. He sacrifices everything, including having a family, to devote time to developing his food and establishing the restaurant. He wants to be great. He doesn't want being an African American to prevent him from pursuing his dreams and being successful. So, he works that much harder. It may be 177 years later and African Americans are no longer enslaved, but I understand his ambition and even struggle with similar challenges as a woman playwright of color.
MJ: What do you want viewers to take away from Our Man Beverly Snow?
JEL: Ultimately, this is a play about people who believe in something so strongly that they are willing to fight and, if necessary, die for it. Whether what they believe in is their own artistic vision, the fight for freedom and independence of others or a vision for what the United States could be at its greatest, each of these characters has a strong and unwavering faith in something. It's good to consider what you strongly believe in and what you'd be willing to fight and die for. I also want audiences to think about their own actions, their role in history and the impact that they can have on their communities.
MJ: What is the process by which you cast the Diving Board Festival reading? How did you find the right actors?
JEL: I've lived in D.C. for seven years and have had a reading, workshop or production each year. I like to work with actors who are smart, reliable, and ask good questions; and whose work inspires me. We're a small community, so everyone tends to know everyone. Once I knew who the characters in the play were going to be, I started to think about actors who might be able to play them. I sent a list of recommendations to my director, Colin Grube, and he reached out them. I also emailed them to be on the lookout for Colin's email. My cast for the reading included Maryam Foye, Eric Humphries, James J. Johnson, Julian Elijah Martinez, Dane Petersen, Colin Smith, Dawn Ursula and David Lamont Wilson. Dane was the only actor I had never worked with prior to this reading, but my director had and spoke very highly of him. Playwrights in D.C. are very fortunate, because we're surrounded by intelligent, talented, and hardworking actors.
MJ: When and where will Our Man Beverly Snow be performed?
JEL: The play will receive a reading at Gettysburg College this Spring as part of their New Works Festival. I'm one of two playwrights being featured. As for the world premiere or anything beyond that, I don't know. If you know someone who's interested, send them my way! In my dream of dreams, I'd love for the Ford's Theatre to produce it, because of the play's history and message about independence and the pursuit of freedom.
MJ: Do you plan to do more historically-based plays in the future?
JEL: Yes, as I mentioned, I love historical dramas. There's so much to learn from those who came before us. In addition to OUR MAN BEVERLY SNOW, I am working on a play called, THE HAMPTON YEARS, which will receive a world premiere production at Theater J later this Spring.
Set in Hampton, Virginia in the 1940s, THE HAMPTON YEARS examines the impact of World War II on Jewish immigrants living in the United States and their role in shaping the lives and careers of African American students in the segregated south. In addition to Austrian Jewish art professor Viktor Lowenfeld (author of Creative and Mental Growth), the play features world renown artist John Biggers, Elizabeth Catlett, Samella Lewis and Charles White. Performances run May 29th through June 30th.