It's always interesting to read what visitors and residents of Washington have had to say about our fair city over the years. So here's our first, "Impressions of Washington," post. We hope to do a lot more of these.
In 1873, the Kölnische Zeitung (Cologne Daily News) asked German anthropologist Friedrich Ratzel to take a trip to the United States and write a series of articles about life in America. He reached Washington in the winter of 1874 and, as a scientist, was particularly interested in the Smithsonian building:
The Smithsonian Institution, which can be seen from a great distance away, stands in a garden with park-like surroundings on the large empty space extending westward from the Capitol towards the Potomac. It is an odd-looking structure.... Eight towers of varying size and shape are seen here; there is no lack of chapel-like additions, odd-looking oriels and pillars, and churchlike entrances; the windows are high, relatively narrow, and quite round-arched.
If one looks at this complex from the steps of the Capitol.... one could scarcely think otherwise than believe he was looking at one of those odd-looking monasteries in front of him. The incomprehensible drive in this country for exact imitation of long since empty forms and styles has caused much energy and effort to be wasted on such buildings, more than one would think.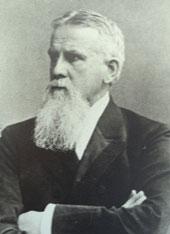 Ouch. That stings a little bit. Well, for what it is worth, Mr. Ratzel, the old-style medieval revival architecture was... well...  by design. Smithsonian leaders wanted the building to conjure up associations with English colleges since education was at the heart of the Smithsonian mission. Architect James Renwick adhered to those wishes, and designed the Castle building using a combination of late Romanesque and early Gothic styles. He won a nationwide design competition in 1846 and the building was completed in 1855.
Fortunately for us, (hmmm... why am I taking this so personally?) Friedrich Ratzel liked the inside of the Castle much better than the outside:
But if you open the gate, the inside makes you forget the puzzle which the exterior offers, for one of the finest natural history collections, richly furnished, superbly organized, is displayed there in a large, bright hall. One does not have to make a thorough study of the objects which are displayed here in elegant display cases to discover that one has before him a serious collection and not merely a simple exhibition.
He went on to praise the number of specimens in the museum and the proactive manner in which Smithsonian officials shared research with scholars in other nations. And, he predicted great things for the Institution in helping to establish Washington as the center for learning in the United States. Thanks Mr. Ratzel!
Sources
Smithsonian Institution Archives website. (Link)
Smithsonian Institution Research Information System catalog. (Link)
Stehlin, Stewart A., "The Smithsonian Institution in 1874: A German Visitor's Description," Records of the Columbia Historical Society, Washington, D.C., Vol. 50, The Fiftieth Volume (1980), pp. 245-251.