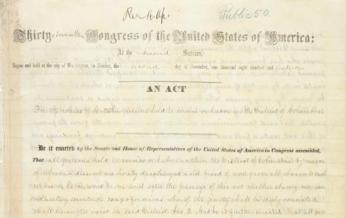 We all learned in history class that Abraham Lincoln freed slaves in Confederate states by issuing the Emancipation Proclamation in September 1862. But did you know that until April 16, 1862, slavery was still legal and widely practiced in Washington, DC? On this day, DC celebrates its own Emancipation Day, marking the passage of the District of Columbia Compensated Emancipation Act that legally freed all slaves owned in DC.
In early 1862, DC was home to a little over 3,100 slaves, roughly 4% of the city's population at the time. (There was also a much larger free black community in DC.) The "compensated" portion of the act refers to $1 million set aside to pay slaveholders for their loss of property. Slaveowners had to prove ownership and pledge their loyalty to the Union, and in return they could apply for up to $300 per slave in compensation. Some free blacks also received compensation, having purchased their family members' freedom previously. This was the only plan that provided compensation for slaveowners passed by the federal government; later, when the 13th Amendment freed slaves in Union-loyal Delaware and Kentucky, slaveholders absorbed their losses and adapted to an economy without slaves just as those in former Confederate states did. Newly freed slaves in DC celebrated that day, but slaves in neighboring Maryland had to wait until November 1, 1864, when a new state constitution would abolish slavery.
DC first celebrated Emancipation Day in 1866, and the tradition of an annual parade continued until 1901 when money and interest ran dry. DC's City Council brought the tradition back in 2005, and our city has celebrated ever since.
Sources:
http://www.archives.gov/exhibits/featured_documents/dc_emancipation_act/
http://www.georgetowner.com/articles/2011/apr/05/dc-statehood-emancipation-day-linked/