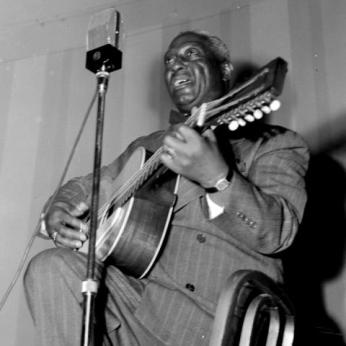 Huddie William Ledbetter (January 20, 1888 – December 6, 1949), better known as Lead Belly, was a legendary folk and blues musician known for his virtuosity on the twelve-string guitar, powerful vocals and the huge catalog of folk standards he introduced.
Inducted into the Rock 'n' Roll Hall of Fame in 1988, artists as diverse as Bob Dylan, Janis Joplin, Johnny Cash, Led Zepplin, Creedence Clearwater Revival, Nirvana, and The White Stripes have covered his songs and recognized his musical influence.
Somewhat less remembered, even locally, is Lead Belly's "Bourgeois Blues," a song he wrote during his visit to Washington, D.C., on June 22, 1937. And as a first impression of Washington, it was an incisive, damning indictment of the city's rampant Jim Crow segregation conveyed in three minutes of rippling 12-string blues.
Lead Belly's journey to Washington came at the request of Alan Lomax, Assistant in Charge of the Archive of Folk Song of the Library of Congress, who wanted to record some of Lead Belly's songs in the Library's studio. Within hours of his arrival in Washington, Lead Belly came face to face with racism. Alan Lomax described the encounter years later in an interview for a PBS program.
He came to stay with me in Washington. Washington, at that time, was a Jim Crow town, and blacks weren't supposed to enter white hotels or houses. Well, I lived in a little apartment across from the Library of Congress, and Lead Belly and his wife, Martha, came up to spend the night with us. The landlady objected, and Lead Belly and Martha, at the head of the stairs, heard the argument that I had with the lady — she said she was going to call the police and have us all put out. So we finally had to get in a car and find a hotel. But Lead Belly made a song about this called 'Bourgeois Blues.'
The lyrics for the song, fired off within hours of the incident, display Lead Belly's remarkable ability to, in the words of Lomax, "make a song when he needed to." Here are a few of the verses:
Me and my wife went all over town
And everywhere we went people turned us down
Lord, in a bourgeois town
It's a bourgeois town
I got the bourgeois blues
Gonna spread the news all around ...
I tell all the colored folks to listen to me
Don't try to find you no home in Washington, DC
'Cause it's a bourgeois town
Uhm, the bourgeois town
I got the bourgeois blues
Gonna spread the news all around
In the rest of the song, Lead Belly uses harsher and more direct language to protest against the racism that was rampant in the Washington of the 1930s. Listen to a 1939 recording below.
Despite Lead Belly's difficult first encounter with Washington D.C., he did return in 1940 for another mammoth recording session with Alan Lomax at the Library of Congress. Later, Lomax introduced him to an expanded circle of folk musicians including Woody Guthrie, Pete Seeger, Josh White and Aunt Molly Jackson, and was also instrumental in getting Lead Belly recording sessions with RCA Victor and Musicraft records.
Tragically, Lead Belly died in 1949 before he could become a commercial success. Ironically his song, "Goodnight Irene," did become a huge no. 1 hit when the white folk group The Weaver released it a year later.