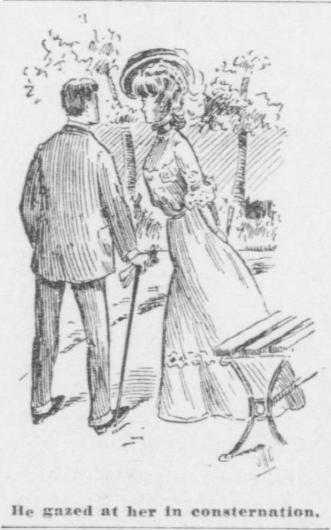 Around the turn of the century, Washington, D.C. had a distinct lack of single men. In any era before, the women of the city might have resigned themselves to the life of the scorned "old maid" in a corset and lived a boring existence with their parents before finally dying. But not these ladies. No, starting in the late 1890s, many women in the capital city began to push for a more open society, pursuing higher education, living alone, and managing their own affairs. This was the dawn of the Bachelor Girl age.
Bachelor girls were a point of controversy in the Washington press. Some columnists were shocked and appalled with these independent ladies' leaps into the future. Take this passage from Washington Herald columnist Julia Chandler written in 1915.
Have you ever weighed the One Man's proposal against your own success, with its accompanying financial independence and sweet sense of freedom in going and coming and doing as you please? The Bachelor Girl thought it all a mighty fine thing, and quite adequate to her every need, but she reckoned without her instinctive wifehood and motherhood that is the dominant part of every normal woman.
As you can probably tell, Chandler held a then-traditional view of femininity, which focused on marriage and children above all else. Her column often lamented the supposedly sad fate that awaited women who refused marriage. (It's not a very fun read, in case you were wondering.)
But other observers seemed quite pleased with the revolution, heralding the modern woman for her independent acts such as going to the theater unescorted by a man and carrying a latch key. "Carrying a latchkey," for those who don't know, is an old timey way to say "owning a key to your own front door." Scandalous!
Perhaps the most interesting – or at least the most entertaining – discussion of bachelor girls is in the 1907-1908 "Bachelor Girl Chat" column by Helen Rowland in the Washington Herald. The column follows conversations between the "Bachelor Girl" and the "Mere Man," and seems to suggest that 20th century Washington women would not be defined by waiting around for a husband to come along. Consider this gem:
Any woman is more fascinating when she is doing something which calls forth her energies and brings out her personality than when she is merely sitting at home and waiting.
This isn't to say that marriage was not still a priority – it just wasn't the only priority and it was a choice for the independent woman. As Washington Times columnist Beatrice Fairfax wrote in 1918, "the Bachelor Girl almost always marries, and if she does not, it is for every reason but lack of opportunity."
Throughout the "Bachelor Girl Chat" columns, anyone can see that the Mere Man badly wants to marry the Bachelor Girl – he as good as says so over a dozen times, though the sentiment is lost in their discussions of modern feminism and "the maddening masculine attitude."
So, did Bachelor Girl and Mere Man ever tie the knot?
Spoiler alert: it is a completely downer ending. After a lengthy pursuit, the Bachelor Girl happily gives up her independent life, calling it a "feminine bluff", and hands over her latchkey to the Mere Man for a wedding present as he laughs at the foolish idea of a self-sufficient woman. They even trade in her piano for a cook stove; you know, because wives aren't allowed to have hobbies?
Old habits die hard, I guess.
Still, the column reflects that society's views of feminine roles were starting to shift in early 1900s. Moreso than before, single women had options. And that was just the beginning. These days we even have our own key chains and everything.
Sources:
"Bachelor Maids." Topics in Chronicling America. The Library of Congress. Web. 2013.
Chandler, Julia. "Folk We Touch in Passing." The Washington Times. 1915-1917. Chronicling America: Historic American Newspapers. The Library of Congress. Web. 2013.
Fairfax, Beatrice. "Beatrice Fairfax writes of the problems and pitfalls of the war workers – Especially for Washington women." The Washington Times. 19 Sept. 1918. Chronicling America: Historic American Newspapers. The Library of Congress. Web. 2013.
Rowland, Helen. "Bachelor Girl Chat" The Washington Herald. 1907-1908. Chronicling America: Historic American Newspapers. The Library of Congress. Web. 2013.