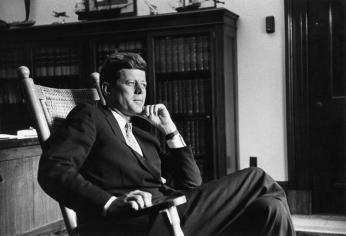 When we think of President John F. Kennedy, we picture him living in the White House with Jackie, Caroline and John Jr. But for most of the time he spent in Washington — the years from 1946 through 1960 — he was a resident of the city's Georgetown neighborhood.
When the Massachusetts native moved to Washington after being elected to Congress in 1946, he was just 29 years old and still single, and he followed the same pattern as so many other young people who've arrived here over the years in a quest for greatness. He settled into a group house, where after a long day at work he could hang out with his friends, leave his dirty laundry strewn all over the place and lead the carefree existence of a party-loving bachelor.
Kennedy's bachelor pad for his first several years in the capital was a three-story row house at 1528 31st Street NW in Georgetown, which he leased in November 1946 for the then-princely sum of $300 a month. (In today's dollars, that would amount to nearly $3,600, according to the U.S. Bureau of Labor Statistics inflation calculator). The house, which had been built just four years before, had enough room to accommodate not just the freshman Congressman, but also his aide Billy Sutton (who paid him $2 a month in rent) and Kennedy's sister Eunice, who had taken a job in Washington, working for the Department of Justice's committee on juvenile delinquency. Since JFK was a bit wealthier than the typical Washington neophyte, he could also afford a household staff. Margaret Ambrose, a Kennedy family cook, and an African-American valet-butler named George Thompson also took up residence.
Despite the hard-working help, young JFK's household was a typically messy twenty-something milieu. As biographer Robert Dallek describes it, despite Thompson's continual effort to pick up after the future President, "clothes were draped over chairs and sofas, with remnants of half-eaten meals left in unlikely places." (Syndicated columnist Joe Alsop reportedly once looked behind some books on the shelf and found part of a hamburger stashed there.) Kennedy biographer Lance Morrow describes JFK's household as having a "bivouac frat house air."
After living in the 31st Street townhouse for three years, JFK moved out and went on to live at least a half-dozen other Georgetown addresses, which you can see on this self-guided walking tour.
JFK famously loved sports, and a 1953 Saturday Evening Post profile, entitled "The Senate's Gay Young Bachelor,"  depicted the then-36-year-old Massachusetts Senator as a happy-go-lucky Georgetown denizen who played touch football every Saturday in local playgrounds. Even so, one famous photo of him playing baseball in the mid-1950s in a Georgetown park with fellow senators Mike Mansfield and Scoop Jackson, apparently was staged, according to biographer John T. Shaw. (He writes that Kennedy showed up late for the photo shoot and joined the other two senators, who'd been impatiently waiting for him, and then hustled off to another appointment.)
After JFK proposed to Jacqueline Bouvier — by some accounts, it was in a booth at Martin's Tavern at 1264 Wisconsin Avenue NW, where he was partial to the eggs Benedict and Smithfield ham — and married her in 1953, the newlyweds moved into another three-story townhouse at 3321 Dent Place NW, which his secretary, Evelyn Lincoln, arranged for them to rent furnished for six months. (A 1954 photo shoot of the Kennedys at Dent Place, published as a book in 2001 by Johns Hopkins University Press, shows a lean, youthful-looking JFK, in a white undershirt and slacks, standing on the house's balcony with his wife.) Before moving into the White House, the Kennedys also lived for a time at 3307 N. Street NW, in a house that JFK bought as a present for Jackie, according to Thomas J. Carrier's book Historic Georgetown: A Walking Tour.
The Kennedy family worshipped at Holy Trinity Church at 3513 N. Street NW. This newsreel, shot in November 1960, shows JFK walking through the streets of Georgetown on the way to services with young daughter Caroline.