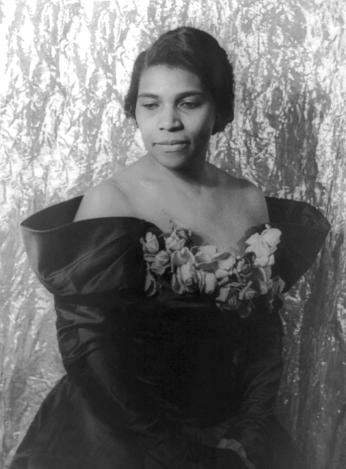 In 1939, in what became one of the most painful moments in Washington music history, celebrated African-American singer Marian Anderson was denied an opportunity to perform for an integrated audience at Constitution Hall because of her race. Then-First Lady Eleanor Roosevelt resigned her membership in the Daughters of the American Revolution (DAR), which owned and operated the concert hall. Anderson's manager, Sol Hurok, capitalized on the First Lady's support to seek federal government approval for the singer to give an open-air performance instead.
On April 9, 1939, a crowd of 75,000 people, including Secretary of the Interior Harold Ickes and Supreme Court Justice Hugo Black, gathered in front of the Lincoln Memorial and listened to Anderson sing "My Country, 'Tis of Thee" on the memorial's steps. According to The New York Times, six microphones carried Anderson's voice to millions of radio listeners throughout the country.
Anderson's triumphant public performance proved to be a painful embarrassment for the DAR, which came under public and political pressure to integrate Constitution Hall concerts. In October 1942, the organization, while stopping short of ending its discriminatory practices, invited Anderson to appear in a concert to benefit war relief organizations. The Washington Post reported that Anderson was willing to accept, provided that the DAR would not only allow a racially mixed audience for her concert but also stipulate "that in the future, colored performers be allowed to appear before mixed audiences. Also, that there was to be no segregation of races in the audience." According to Anderson biographer Allan Keiler, Hurok also demanded that Anderson's performance "be construed as a precedent that hereafter, Constitution Hall will be open to her in the normal course of her annual tours." The DAR declined to do that, and once again found itself in the headlines for refusing Anderson. 
Finally, in early December 1942, DAR officials partially relented, agreeing to allow Anderson to perform before an integrated audience. Tickets for the concert went on sale at the Woodward Building on 15th Street N.W. Anderson decided to donate the concert proceeds to United China Relief, a gesture that may have been her way of tweaking the DAR for previously refusing African-American singer Paul Robeson's bid to perform a benefit for that charity, according to Keiler.
On January 6, one day before Anderson's concert, she was honored in a ceremony at the Department of the Interior, where officials unveiled a mural depicting her 1939 concert. The following evening, a sold-out audience of 3,844 spectators — more than half of them African-Americans, according to Keiler — descended upon Constitution Hall. The Post's music critic, reported Mrs. Roosevelt entered her box to "a salvo of applause." Others in attendance included Supreme Court Justices William O. Douglas and Hugo Black, several members of FDR's cabinet, and a smattering of Congress members. Anderson performed a range of pieces by Handel, Haydn, Massenet, and American composer Charles Tomlinson Griffes, before finishing with four spirituals, including "Ride On, King Jesus" and "My Soul's Been Anchored in the Lord." She dedicated one song to the African-American scientist and inventor George Washington Carver, who died two days before. In a rousing finale, Anderson led the audience in the singing of "The Star-Spangled Banner," which according to the New York Times, elicited "an intense emotional response."
Brown wrote Anderson was "in excellent voice" and gave a masterful performance that extended beyond her impressive technical skill, including the breath control that allowed her to sustain tones with ease. "Sensitive to the emotional content of each song, she projects that emotion faithfully," he noted.
Despite Anderson's breakthrough performance, the DAR still wouldn't allow other African-American artists to perform at Constitution Hall. In October 1945, after Rep. Adam Clayton Powell's wife, pianist Hazel Scott, was refused a booking, President Harry Truman released a letter to Powell in which he condemned the DAR, comparing its policies to those of the Nazis. "One of the marks of a democracy is its willingness to respect and reward talent without regard to race or religion," Truman wrote, according to The New York Times. Within the DAR, a group headed by Rep. Clare Boothe Luce of Connecticut began pressuring the organization's board to delete its "white artists only" clause from leases. The board stubbornly resisted, reaffirming the ban in 1947 and allowing only that it would consider making case-by-case exceptions for black performers, as long as they were doing benefit shows without pay. But the wall was beginning to crack. In February 1952, DAR officials relented and allowed a commercial performance by renowned African-American singer, Dorothy Maynor, who sang at Truman's inauguration in 1949.
Finally, on March 14, 1953, Anderson herself returned to Constitution Hall, as part of an American University concert series, and sang there for pay for the first time to an integrated audience. Despite having finally broken the color barrier at the hall for good, Anderson noted afterward she felt no sense of elation over her triumph. "It was a beautiful concert hall, and I was happy to sing in it," she later recalled, according to Keiler's biography. But "the essential point about wanting to appear in the hall was that I wanted to do so, because I felt I had that right as an artist." She performed at the venue again in 1956 and one last time in 1964, on the opening night of her farewell tour.
In recent years, the DAR apologized for having excluded Anderson, and in 2009 was among the sponsors of a memorial concert on the 70th anniversary of her Lincoln Memorial performance, featuring Washington-born African-American opera great Denyce Graves.