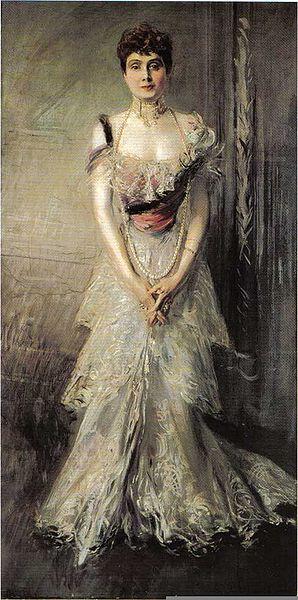 The White House has seen its fair share of distinguished guests, and occasionally scandal can accompany. One example of a social call that rocked Washington was the visit of  Maria Eulalia Francisca de Asis Margarita Roberta Isabel Francizca de Paula Cristina Maria de la Piedad, or the Infanta Eulalia of Spain for those of us who don't have that kind of time.
The Infanta visited America in 1893 in order to represent Spain at the World Fair in Chicago. She and her entourage, her husband and nineteen nobles, stopped in Washington D.C. for a stay that included an honorary dinner on May 26th at the White House with President Cleveland and top U.S. officials.
The princess, fancy as she was, caused a number of sensations at this dinner. The first was her dress, scandalous by contemporary standards. Her gown was of heavy white satin, with stripes of rosebuds woven into the fabric. That was all very well and good, of course, but the issue was that the dress was sleeveless. Lace and flower trimming covered the Infanta's shoulders, but that was it. This daring ensemble, paired with the magnificent jewels of the Spanish royal family, left Washington reeling for weeks.
There was also a bit of a stir when the princess presented herself to the president, rather than going through several dignitaries in order to be officially introduced to Cleveland. The bypassed statesmen were pretty annoyed, but President Cleveland took it in stride, smiling and  greeting her as if that had been the plan all along. The cool-headed president led her through to the East Room, where they presumably had a perfectly lavish dinner with little other incident.
Talkative Washington society was kept abuzz with the story of the Infanta for a long time after her visit, at least until whatever social event got them talking next. The princess, for her part, indicated that she was "greatly pleased" with the US and the "cordial reception" the people gave her.
Sources:
Billings, Elden E. "Social and Economic Life in Washington in the 1890's." Records of the Columbia Historical Society, Washington, D.C. 66/68. (1966/1968). 167-181
"Events of the Month." American Advocate of Peace, 55.7 (July, 1893). 161-162
Willets, Gilson. Inside history of the White House; the complete history of the domestic and official life in Washington of the nation's presidents and their families. 1908.