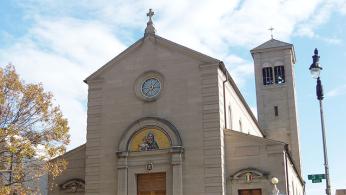 The great surge of Italian immigration to the U.S., which began in the 1880s and lasted until 1920, brought about four million Italians to this country. Many flocked to places such as Little Italy in lower Manhattan and comparable ethnic neighborhoods in Boston, Philadelphia and Baltimore, where new arrivals could speak their native language, find familiar food and churches in which to worship, and plug into a network that helped them to find employment. But Washington, D.C. didn't attract similarly large numbers of Italians. It was a government town without mills, factories or a commercial port, and there were fewer opportunities for unskilled former rural dwellers without language skills to support themselves. Instead, the area drew smaller numbers of skilled immigrants, such as the construction workers, artists and tradesmen who labored on the government buildings erected in the 19th and early 20th centuries. 
Those early Italian immigrants to DC never really established a true Little Italy of their own. Instead, they mostly settled in two residential neighborhoods that vanished long ago — Swampoodle, near the U.S. Capitol and Union Station, and the Judiciary Square area.
Swampoodle got its name from Tiber Creek, a stream that once flowed through downtown Washington and often overflowed its banks during rainstorms, turning its banks into a sea of mud. In the 1840s and 1850s, Swampoodle was settled by Irish immigrants who came to work on buildings such as the U.S. Capitol, the Post Office, and some of the structures on the Mall. It was filled with ramshackle houses in which the Irish lived a rough-hewn existence, hanging their laundry and raising farm animals in the alleyways. The neighborhood's lone elegant feature was St. Aloysius Roman Catholic church, designed by architect and Jesuit priest Father Benedict Sestini, a native of Florence, Italy. Sestini happened to be friends with Italian-American artist Constantino Brumidi, who took time out from his work on the U.S. Capitol to paint murals for the church. When it opened in 1859, President James Buchanan attended the service. 
A few decades later in the 1890s, Swampoodle also became home to Italian workers who came to the District to work on the Capitol, the Library of Congress and other public buidings, and on the railroads. In a 2014 blog post, Leo Cecchini recalls that one of the new arrivals was his grandfather, who worked as a gandy dancer — a worker who laid and maintained railroad tracks — and eventually bought a house in the area. In 1903, more Italian construction workers arrived to participate in the construction of Union Station. According to historians Paul Kelsey Williams' and Gregory J. Alexander's book Capitol Hill, the Italians were housed in temporary camps in Swampoodle, which apparently didn't sit well with the Irish, and the two groups sometimes came into conflict. That construction project would lead to the demise of Swampoodle, as homes were demolished to clear land for the train station.
Meanwhile, other Italians who came to the District in the early 20th Century settled a short distance to the west, in slightly more upscale row houses around the old DC City Hall/ Courthouse. As a 1990 Washington Post article detailed, the neighborhood attracted railroad men, carpenters, grocers and barbers. "They arrived with little money, abandant hope and an unwavering Catholicism they could fully express only in their native tongue," Post writer Tony Glaros explained.
By 1913, the District's Italian immigrant population had grown to about 3,000, according to Glaros. The Italians didn't have a church or an Italian-speaking priest of their own, so Father James Macklin, a local pastor, recruited a young Italian-born graduate of Catholic University's seminary, Father Nicola DeCarlo, to minister to them. Father DeCarlo rented a small house on H Street NW, where he built a small altar in the parlor and built benches to serve as pews. Another immigrant donated an organ, and just before Christmas of that year, Father DeCarlo held services for the first time there. A few months later, the priest moved to a slightly bigger house on Third Street NW, which according to Glaros became a gathering place for the District's Italians. Within a few years, the working-class parishoners had raised enough money to buy land and build a church, Holy Rosary, at Third and F streets, which opened in 1919.
Holy Rosary is still in existence, but the residential neighborhood around it has been gone for decades, a victim of DC's rising downtown real estate values. According to a 2013 Catholic Standard article, many of the the grandchildren and great-grandchildren of the original Italian immigrant community there now live in Washington's far-flung suburbs, but still return to worship and utilize the parish's Casa Italiana Cultural Center. The latter offers Italian language instruction and courses in Italian cooking, wine tasting, and majolica, the ancient Italian art of ceramic pottery, and helps to keep the Italian-American tradition alive in the District.