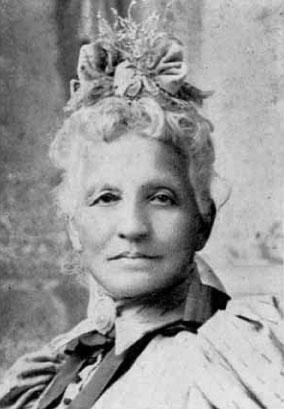 In 1867, Mary Todd Lincoln became embroiled in the "old clothes" scandal. But this story isn't about Mrs. Lincoln; it's about one of her associates, dressmaker to the stars, Elizabeth Keckley.
Keckley was born a slave in Virginia around 1820. Her earliest duty was to watch after the baby of the white family; she was beaten severely for making mistakes. Following the sexual abuse of her mother, which led to Keckley's birth, Keckley herself was sexually assaulted.
In addition, she was loaned out to a family in St. Louis who used the income she brought in from dressmaking to support themselves.  From her autobiography:
With my needle, I kept bread in the mouths of seventeen persons for two years and five months.
In 1860, Keckley was able to buy her freedom with the sum of $12,000. Her clients, the well-to-do women of St. Louis had heard of her struggles to raise the money and passed the hat between themselves to provide the amount.
Keckley moved to D.C. to set up shop and teach young colored women in her trade. Here she confronted the laws obstructing the movement of freed people in the capital. Unless she could obtain a license to stay in the capital (which required money) and have someone vouch that she was free, Keckley would have to leave. Here again the lady clients of Keckley came to her aid.
Shortly after her arrival in Washington, Keckley entered the employ of Mrs. Jefferson Davis, though she still made dresses for other women of the city, like Mrs. Robert E. Lee. Of her time with the Davis family, Keckley wrote:
Almost every night, as I learned from the servants and other members of the family, secret meetings were held at the house; and some of these meetings were protracted to a very late hour. The prospects of war were freely discussed in my presence by Mr. and Mrs. Davis and their friends.
Keckley also wrote of a late night she spent sewing a dressing gown for Mr. Davis, which she had "not a shadow of a doubt" he wore while President of the Confederacy. Mrs. Davis approached her and asked the freedwoman to go South with the family when the trouble started, assuring Keckley it would be over soon and Keckley would have a position in the White House with the Davis family. Although she refused Mrs. Davis, Keckley would soon find herself in a treasured position in the White House.
Her change in position came in 1861. In exchange for rushing an order, an introduction was arranged for Elizabeth Keckley with Mrs. Lincoln at the famous Willard Hotel on the day of President Lincoln's inauguration. The introduction led to an interview, and Keckley was hired on as Mrs. Lincoln's "modiste"- which means "dressmaker," but it's in French so its fancier. Keckley made as many as 16 dresses for Mrs. Lincoln during the season, and also worked for Mrs. Stephen A. Douglas amongst others.
Keckley's time with Mrs. Lincoln, however, is particularly noted by historians, who use her book to draw conclusions about the Presidential family's private life. Keckley was by Mary Todd Lincoln's side as her confidant and sometimes only friend for much of the time between 1861 and 1867. Keckley bears witness in her book to the death of Willie Lincoln and Abraham Lincoln and to Mrs. Lincoln's grief after both events.  She presents an extremely intimate view of the Presidential family, something quite shocking for the Victorian era. Keckley regrets the intrusion into her friend's life but explains her actions as a character defense in the scandals plaguing Mary Todd Lincoln:
I must defend the lady that I have served. The world have judged Mrs. Lincoln by the facts which float upon the surface, and through her have partially judged me, and the only way to convince them that wrong was not meditated is to explain the motives that actuated us.
But Elizabeth Keckley deserves to be remembered for being more than Mrs. Lincoln's friend. Remember the trouble she faced in the capital as a free black woman? Keckley didn't forget. She spent her life seeking the advancement of her people. In 1862, escaped slaves fled into the Capital, "looking for liberty." Keckley writes of what they found:
Many good friends reached forth kind hands, but the North is not warm and impulsive. For one kind word spoken, two harsh ones were uttered.
Keckley and friends from her church formed the Contraband Relief Association – "contraband" being the contemporary name for escaped slaves. An organization of forty members, they sponsored concerts and a festival to raise money and collect clothing, food, and blankets. Mrs. Lincoln herself donated $200 and 50 comforters.
Keckley wrote of the improvements in the black community made possible through the CRA and others:
Whoever visits the Freedmen's Village now in the vicinity of Washington will discover all of these evidences of prosperity and happiness, the schools are objects of much interest. Good teachers, white and colored, are employed, and whole brigades of bright-eyed dusky children are there taught the common branches of education [and] their advancement is rapid. I number among my personal friends twelve colored girls employed as teachers in teh schools at Washington. The colored mission Sabbath school, established through the influence of Gen. Brown at the 15th St. Presbyterian Church, is always an object of great interest to the residents of the capital, as well as to the hundreds of strangers visiting the city.
Her autobiography, found at the bottom of the page, is a fascinating read. And yeah, if you're a fan of Lincoln and want the dirt, it's good for that too.
Sources
Keckley, Elizabeth. Behind the Scenes, or, Thirty years a Slave, and Four Years in the White House. New York: G.W. Carleton & Co., 1868.
"Keckley, Elizabeth Hobbs." American National Biography Online.