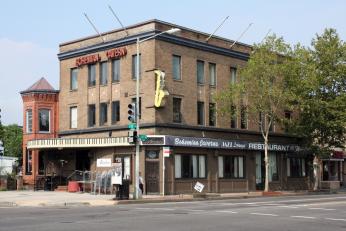 It was a windowless basement that was originally a Prohibition-era speakeasy and had been remodeled in the 1930s into a fake cave, complete with plaster stalactites. But the eccentricity of Bohemian Gardens' decor didn't stop it from becoming a venue for some of the greatest performers in the history of jazz. 
The Caverns — originally named the Club Crystal Caverns — was located at 11th and U Streets. It was part of a neighborhood once packed with jazz clubs, including The Green Parrot, Club Bengasi, Jungle Inn, and the Republic Gardens. Over the years, it showcased performers ranging from District native Duke Ellington, Louis Armstrong, Cab Calloway, Sarah Vaughn, and Earl Hines — who celebrated the club in his 1934 song "Cavernism" — to Miles Davis, Thelonious Monk, and Charles Mingus.
Bohemian Caverns was also known to jazz aficionados as the spot where, in May 1965, pianist Ramsey Lewis recorded his Grammy-winning single, "The In Crowd." In a 2015 National Public Radio interview, Lewis explained he'd gotten the idea to cover the song, which originally had been recorded by pop singer Dobie Gray, from a waitress in a Washington coffee shop who played the song for him on a jukebox.
Lewis and his trio quickly worked out an arrangement and performed the song at the end of their set that evening. The band's inspired playing was propelled by the enthusiastic applause and shouts of the Bohemian Caverns crowd, which can clearly be heard on the record. An edited three-minute version of the song went on to become his biggest hit, crossing over from jazz to the pop charts, where it peaked at no. 5 on October 9, 1965. (For a bit of perspective on the unlikely success of this jazz instrumental in that era, The Beatles were no. 1 that week with "Yesterday" and "Hang on Sloopy" by The McCoys was no. 2).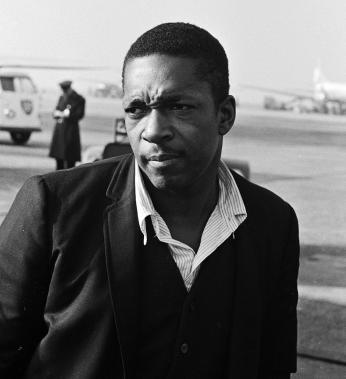 Another great who played numerous dates at Bohemian Caverns in the early 1960s was saxophonist John Coltrane, who was such a great draw that the club raised its prices when he did a one-week stand in July 1962. As The Washington Post's Tony Gieske wrote in a profile of the musician, Coltrane — who fueled his performance with a peculiar supper of clam juice, orange juice, pineapple juice and salted walnuts — was "a demonic whirlwind" of a live performer. "After he has played a 40-minute solo that has gripped the deeper reaches of a rapt assembly, he will give a polite little nod and go back to his corner amid deafening applause."
Coltrane performed at the Caverns again in July 1964, when Post critic John Pagones reported that the club was "packed to the stalactites" with fans. That night, Pagones wrote, Coltrane's virtuosity erupted during a performance of "My Favorite Things," in which he played searing runs at both the top and the bottom of the melody, leading his trio to reach "an unbelievable intensity."
The club became a casualty of the 1968 riots that ravaged the U Street neighborhood. According to Washington CityPaper, it reopened briefly as a bar called Frank's Cave, and in the 1980s became the Underground Cafe, a business that served as a front for a heroin ring. It reopened again as a jazz club in the 1990s.  
In its most recent incarnation over the past decade, run by local jazz impresario Omrao Brown and partners, the club experienced a resurgence. CityPaper writer Michael J. West described it as a place that nurtured up-and-coming players but remained such a hallowed institution that performers such as saxophonist Pharoah Sanders, who could easily fill bigger rooms for heftier fees, continued to play there. Unfortunately, financial difficulties forced the club to close again in March 2016. 
"This is still the same building, the same stage where the greats played," bassist Steve Synk, who was part of the final night, lamented in a Washington Post article. "We've lost so many jazz hubs in D.C. Losing this place is on another level. It's losing a home."