Washington has seen its fair share of crimes: mafia operations, drug networks, triple murder… But in the late nineteenth and early twentieth centuries, one of the city's most pervasive crimes was one we today might find difficult to imagine: chicken thievery.
It's safe to assume that as long as people possessed property, there were people who made it their mission to steal said property. According to The Evening Star, though, the phenomenon of stealing fowls in particular escalated in the 1850s. Apparently, "the introduction of the Shanghai and other fine breeds" of chickens provided an "irresistible bait" to thieves.[1] Capitol Hill "suffered particularly from the gang of organized chicken thieves," reported The Star.[1] Newspaper archives from the 1850s to the early 1900s are littered with various reports of robberies and "organized gang[s] of chicken thieves."[2]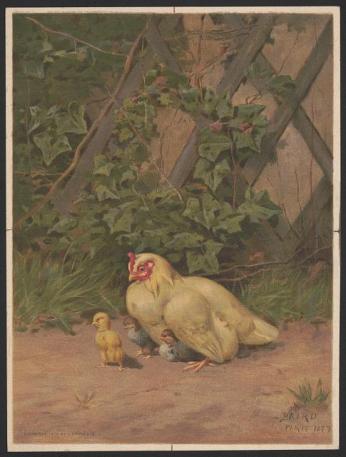 The Evening Star even included "despoilers of hen roosts" in its 1890 report, "TRICKS OF THEIVES: The light fingered portion of Washington's population."[3] The piece included some insider tidbits, such as how the "best way to swipe a roost" involves burning sulfur on the floor of the chicken house to prevent the chickens from making noise. It also revealed that most stolen chickens were taken to merchants who "dressed them and brought the carcasses to market where they were sold."[3]
In today's urban landscape, the phenomenon may seem difficult to imagine; but 150 years ago chicken robbery was widespread -- and serious business. The practice was dangerous and, at times, even fatal. Most households possessed at least one gun, and the natural response of those who caught robbers in their henhouse was to shoot at the intruder. Responses of officers on patrol varied. In some occasions their interference prevented the thieves from getting shot,[4] and in others they were the ones aiming their guns.[5] In 1883, The Evening Star noted that most "Chicken Thieves [were] Not Deterred by the Danger of Getting Shot" and knew it came with the territory.[5] Some thieves retaliated by throwing stones.[5] In one escape attempt, an armed thief shot a henhouse owner in Anacostia.[6]
The increasing threat of violence motivated chicken thieves to organize into gangs, after which they grew "bolder than ever" according to reports in the 1860s.[7]Gaining strength in numbers, the thieves were able to conquer more territory and go after bigger bounties. One gang "made a clean sweep" of several different hen houses on Howard University grounds, "taking from one place alone nearly $100 worth of chicken and ducks."[7]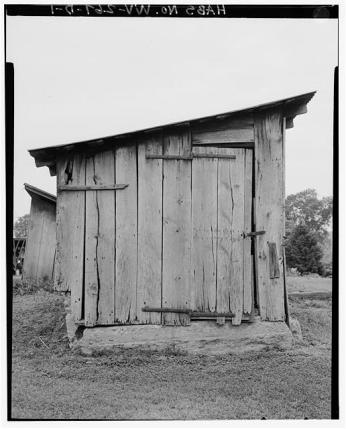 As the frequency of crime ramped up, the public became increasingly militant about protecting themselves against possible thieves. In a tragic yet ironic incident in 1883, a man living near the District line was fatally shot by a gun trap he himself had set in his hen house; a trap aimed, of course, at catching chicken thieves.[8] Five years later, The Star recounted the near death of William Overhultzer, who was bludgeoned by his landlord, William Cord, after Cord mistook Overhultzer for a chicken thief.[9]
Fowl play (sorry, couldn't resist) also gives some insight into race relations of the day. Although papers like The Evening Star racialized the crime and characterized "hen roosters or chicken thieves" as being "mainly colored men and boys," there were many accounts of white thieves, as well as several cases where white and black thieves banded together.[10] Robberies occurred in both white and black neighborhoods. Chicken thievery therefore seemed to act as an odd unifier of the city, as no D.C. resident, no matter their race, was immune to being targeted by thieves.[10]
In 1887, for example, concerned residents of the city united against the common enemy, distributing a circular to issue a warning to the thieves:
PERSONAL: FIFTEEN DAYS NOTICE. The chicken thieves must go. You and your children are hereby notified to leave the District within fifteen days from this date. All persons are cautioned against harboring you. Our private detective will continue on your track… The important part you took in helping dispose of our property shall not go unpunished. The Uniontown police (thanks for their vigilance) are well acquainted with your transactions, and we can get witnesses enough against you alone to give you a free ride to the Albany Penitentiary[11] where they don't steal chickens. God save the commonwealth of D.C.[12]
Despite this attempt at intimidation, chicken thieves continued to vex District residents into the early 1900s. But in the mid to latter twentieth century, mention of chicken thievery grows more and more sparse. Perhaps complaints of henhouse owners finally proved effective. More likely, the practice of keeping chickens declined as the city modernized. Either way, the phenomenon seems largely forgotten today.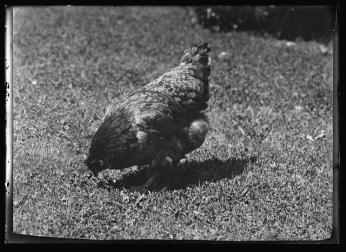 In some Washington area neighborhoods, though, the birds still hold historical significance…
a, b Look to Your Henroosts: May 25, 1857 | Evening Star (published as Evening Star.) | Washington (DC), District of Columbia | Page 3
^ Organized Gang of Chicken Thieves: December 18, 1869 Evening Star (published as THE EVENING STAR.) - December 18, 1869 - page 4
a, b TRICKS OF THIEVES: The light fingered portion of Washington's population. But few professionals… the despoilers of hen roosts. February 15, 1890 | Evening Star (published as THE EVENING STAR.) | Washington (DC), District of Columbia | Page 8
^ Narrow Escape of Chicken Thieves: December 4, 1869 | Evening Star (published as THE EVENING STAR.) | Washington (DC), District of Columbia | Page 4
a, b, c Chicken Thieves Not Deterred by the Danger of Getting Shot: April 14, 1883 | Evening Star (published as THE EVENING STAR.) | Washington (DC), District of Columbia | Page 5
^ Man Shot by Chicken Thieves: July 3, 1855 | Evening Star (published as Evening Star.) | Washington (DC), District of Columbia | Page 3
a, b Organized Gang of Chicken Thieves: December 18, 1869 Evening Star (published as THE EVENING STAR.) - December 18, 1869 - page 4
^ Man Accidentally Shot By Trap Set by Himself April 14, 1883 | Evening Star (published as THE EVENING STAR.) | Washington (DC), District of Columbia | Page 5
^ An Old Man's Skull Fractured By His Friend Who Mistook Him for Chickenthief: August 30, 1888 | Evening Star (published as THE EVENING STAR.) | Washington (DC), District of Columbia | Page 4
a, b Chicken Thieves Caught: November 8, 1870 | Evening Star (published as THE EVENING STAR.) | Washington (DC), District of Columbia | Page 4
^ The Albany Penitentiary in New York State was the main penitentiary for Washington, D.C. criminals: http://alloveralbany.com/archive/2010/11/03/the-albany-penitentiary
^ May 6, 1887 | Evening Star (published as THE EVENING STAR.) | Washington (DC), District of Columbia | Page 5