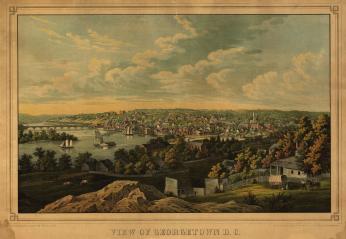 It's completely fair to think that Georgetown might've been named for George Washington. Not only is he the namesake of our entire city, but the neighborhood boasts a lot of places and institutions connected to our first president: taverns he frequented, ports he used to export his tobacco, and a canal he advocated for. It's also relatively close to the George Washington University and University Hospital. Makes sense. There's one problem, though: Georgetown was surveyed and founded in the 1750s. At that point, George Washington was a twenty-something surveyor interested in joining the army.
So who was Georgetown named for, if not the most famous George in American history? There are actually a few candidates. As it turns out, you'll find a lot of Georges in this D.C. neighborhood's history.
George Gordon, a Scottish immigrant and wealthy landowner, was very well known in the Maryland colony. He served as the Sheriff of Frederick County, as well as the judge of its first court.[1] In the 1730s, he purchased the 300-acre Rock Creek Plantation, a tobacco farm on the banks of the Potomac River. A few years later, hoping to establish successful trade in the area, he built a riverside inspection and trading house for his tobacco crop, located near the mouth of Rock Creek.[2] The introduction of lucrative trading also benefitted Gordon's neighbors—including George Beall, who owned the nearby plantation called "Rock of Dunbarton."
This small tobacco industry became so prosperous that, in 1751, the Maryland Colonial Assembly appointed commissioners to lay out a new town around Gordon's inspection house. After surveying the area, the commissioners decided that the land "most convenient" for building belonged to Gordon and Beall.[3] Though offered suitable compensation for the seizure of their land—fair prices per acre, plus the promise of well-placed town lots for their homes—Gordon and Beall clearly weren't happy with the arrangement. When Beall finally gave in and accepted the commissioners' terms, it was only because "if I must part with my property by force, I had better save a little than be totally demolished."[4] Construction went ahead, so that George Gordon's and George Beall's land became a new settlement known as George Town.
But while it might seem fair to name a town after the two local landowners who gave their land for it, there's a more likely contender for Georgetown's official namesake.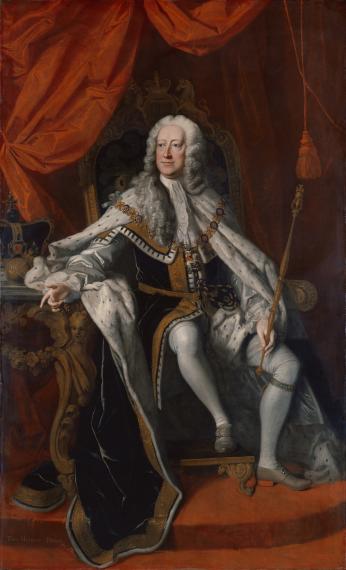 At the time, most of the American colonies were under British control. Place names often paid homage to the British kings (or other royals) who sponsored and ruled over them. And from 1714 until American independence in 1776, all of those kings shared the name regnal name: George. Consequentially, there are a lot of Georgetowns on maps of the United States. All of the original thirteen colonies—and a few other states—have one.
In 1751, when D.C.'s Georgetown officially became a town, King George II was on the throne—he reigned from 1727 to 1760. While no official evidence links the town to the king, it's still an obvious and common choice. Considering the origins of all the other American Georgetowns, King George might be the most likely candidate.
But it's safe to say that there are a lot of Georges in Georgetown's long history. Since all of them—two landowners, a king, and a future president—have connections to the neighborhood, I think it's reasonable to believe that all of them hold some stake in its name.