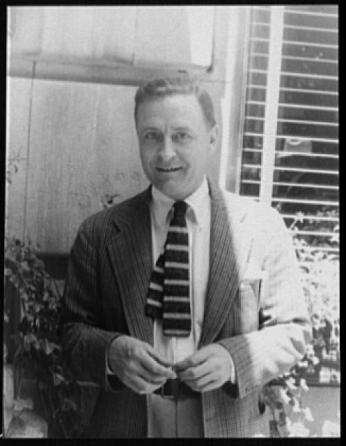 So we beat on, boat against the current, borne back ceaselessly into the past.

And with those beautiful words, one of the greatest American novels comes to a close. Most of you probably read The Great Gatsby at some point in school, but did you know that F. Scott Fitzgerald has a local connection? The Fitzgeralds were an old family in southern Maryland, and Scott's great, great, great-grandfather was Francis Scott Key's brother. Scott's father, Edward, rowed Confederate spies across the Potomac during the Civil War. Edward left Maryland in his youth to seek his fortune in Minnesota, and Scott would not move back to the area until 1932 when his wife Zelda started treatment for schizophrenia in Baltimore.
Fresh off a series of disappointments in Hollywood, Fitzgerald was looking for a quiet place to write his follow-up toThe Great Gatsby in 1932. Zelda showed great improvement from her treatment at Johns Hopkins, so Scott decided to rent a house in Towson, MD to write his next novel, Tender is the Night. He wrote the bulk of the novel at the La Paix estate just outside of Towson and finished it while staying in an apartment in Baltimore. He also drank copious amounts of gin while he wrote, as he believed other people couldn't smell it on his breath.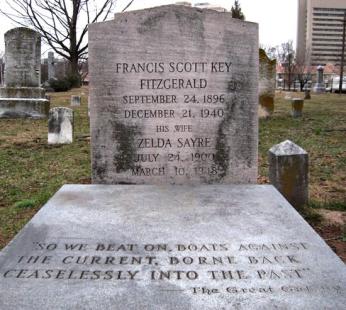 When Fitzgerald died in 1940 in Hollywood, he had wanted to be buried in the family plot at St. Mary's Cemetery in Rockville, MD. Fitzgerald had renounced in Catholic faith, however, so the Bishop of Washington denied his request. After a brief, simple ceremony, Fitzgerald was buried in Rockville Union Cemetery. His daughter Scottie worked for years to overturn the Archdiocese's ruling, and finally in 1975 F. Scott and Zelda Fitzgerald were moved from Union Cemetery to the family plot in St. Mary's. The final line from The Great Gatsby is inscribed on a plaque in front of his headstone.
So the next time you're in Rockville, stop by St. Mary's Cemetery and pay your respects to F. Scott and Zelda Fitzgerald – and don't forget to bring a bottle of gin.
Sources:
Eble, Kenneth Eugene. F. Scott Fitzgerald. Twayne's United States Authors 36. NY: Twayne Publishers, 1963.
Prigozy, Ruth. F. Scott Fitzgerald. Woodstock, NY: Overlook Press, 2001.