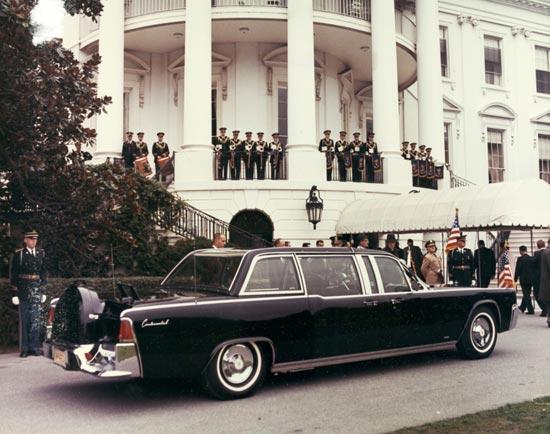 On Oct. 5, 1964, President Lyndon B. Johnson joined a visiting head of state, Philippines President Diosdad Macapagal, in a 25-minute noontime parade through downtown Washington. In the annals of Presidential events, it was unremarkable, save for one odd and unsettling detail. LBJ and Macapagal rode thorugh the capital's streets in the same customized black 1961 Lincoln limousine in which, not quite a year before, President John F. Kennedy had been killed by a sniper as he rolled in a motorcade through the streets of Dallas. 
It may seem puzzlingly strange, even macabre, that LBJ — who had been riding two cars behind JFK in Dallas — would reuse the same car in which his predecessor had been slain. But apparently, the Secret Service decided that it was faster and more economical to recycle JFK's old Lincoln than it was to order the building of a new Presidential parade limousine.  Those who'd seen JFK in the limousine in Dallas might not have recognized it. The navy blue Lincoln no longer was a convertible, having been equipped with a bulletproof metal-and-glass hardtop roof. There were numerous other security modifications as well, which bystanders couldn't see.
The strange saga of JFK's recycled death car began a few years before, when the Secret Service decided to add a new car to the fleet of 10 1950 Lincolns that Harry Truman and Dwight Eisenhower had used, whose roofs had been modified to provide with extra headroom to accommodate the tophats that once were the fashion for chiefs of state.
The President's new car started out as a stock 1961 Lincoln Continental 4-door convertible, manufactured at Ford's plant in Wixom, Mich. in January 1961.  The auto maker then sent it to another company, Hess & Eisenhardt, in Cincinnati, Oh., which customized it to serve as a parade limousine. That involved fairly radical alternations, including cutting the car in half and adding a 3-and-a-half-foot section to the middle. According to Popular Mechanics, the vehicle — code-named X-100 by the Secret Service — was the most sophisticated presidential limousine that had ever been built. Its equipment included a pair of radio telephones, interior floodlights, spotlight-illuminated flagstaffs on the fenders, and a rear seat equipped with a hydraulic lift capable of raising it 11 inches off the floor. But the car's crowning feature was its set of three removable roofs — a standard cloth convertible roof, another of lightweight metal, and a third of transparent plastic. The roofs were composed of multiple removable panels that could be used separately or in different combinations, depending upon the weather and the President's wishes.  
The designers' intention was to make the President more visible to spectators — a decision that would seem ill-considered after Nov. 22, 1963. For all its sophisticated features, the car was woefully short on protection against attack. It wasn't armored, and even if the plastic bubbletop hadn't been removed that day because of the clearing skies over Dallas, the Warren Commission report would note that it "was neither bulletproof nor bullet-resistant."
After the assassination, the limousine was scoured by investigators for evidence. The windshield, which had been hit by the third bullet fired by assassin Lee Harvey Oswald, was removed by the FBI and Secret Service, and became Exhibit (CE) 350 of the Warren Commission.
You might suspect that after that, the car would have been set aside as an historical artifact. Instead, oddly, the fateful Lincoln was shipped back to Ohio, where Hess & Eisenhardt rebuilt it for further use, and then to Ford's experimental garage in Dearborn, Mich., where final touches were made. Reportedly, the $500,000 overhaul replaced 80 percent of the vehicle. According to a 1964 Associated Press dispatch, the customizers added 1,600 pounds of metal and other materials to the car, reinforcing the body with armor plate and replacing its glass with special panes that reportedly were capable of withstanding a direct hit from a 30-caliber rifle round.  The interchangeable roofs were replaced with a bulletproof hardtop and a 1,500-pound rear window that, at the time, was the largest piece of curved bullet-resistant glass ever fabricated, according to Popular Mechanics. Additionally, large metal handgrips were installed on each side of the back trunk so that, if needed, Secret Service agents could jump onto the vehicle while it rolled down the street.  Special puncture-proof tires were mounted on the wheels. Finally, the rear compartment was refurbished, to eliminate any damage from JFK's killing.
In 1967, the car got a second overhaul, which included another paint job — LBJ reportedly disliked the navy blue, so it was changed to black — an upgraded air conditioning system, and conversion of the fixed right-rear door window into one that could be rolled down. According to Popular Mechanics, the car also received structural reinforcments, a modification necessitated after a playful leap by LBJ caused the original rear deck behind the seat to collapse. 
After LBJ left office, his successor, Richard Nixon, who apparently was less security-conscious than LBJ, added yet another modification — a new glass roof with a hinged panel, so that the President could stand during parades. 
X-100 continued to be used by Presidents until it was retired in 1977. It is now part of the collection at the Henry Ford Museum in Dearborn.