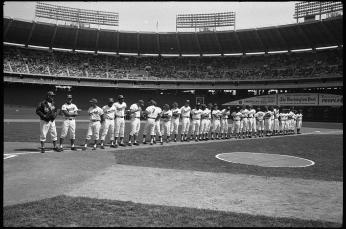 It's pretty common for historical societies or universities to sponsor history conferences. They generally have budgets (albeit small ones) and staffs to put on events. But, the annual D.C. Baseball History Meeting is something different. Each February, almost all by himself, Mark Hornbaker creates a unique event for area enthusiasts.
On his own dime, Hornbaker brings different speakers — including former Washington Senators and Nationals players, authors and journalists — to town for a discussion of the history of the national pasttime in Washington. A packed room of 80 attendees come (for free!) to enjoy stories and share some of their own.
We recently sat down with Mark to discuss this year's meeting, how he got interested in D.C. baseball history, and how he pulls off the event.
How did you first get interested in Washington baseball history?
I was born in 1961 and, as a little boy, I grew up in the Twinbrook area of Rockville until I was about 8 years old. Then we moved out to Darnestown, Maryland. When I lived in Twinbrook, the older kids in the neighborhood would tell me about this great baseball player named Walter Johnson. He was buried in the Rockville cemetery, which was behind our neighborhood, next to Baltimore Road. Some of the other kids took me to the gravesite. So, that was my first brush with D.C. baseball history.

Did you grow up a Senators fan?
I was a big Senators fan as a kid. Every season I thought the Senators would come in first place and possibly win the World Series, not knowing that was never going to happen with the team that they had at the time!
One of my favorite things was collecting baseball cards and keeping statistics on all of the players. Back in the 1960s you couldn't get statistics as easily as you can today. You couldn't just go online. You had to get your Washington Post or Washington Star newspaper. On Sundays, they'd provide statistics for all the players. So, Monday through Friday, I'd keep my own statistics and then on Sunday, I'd compare them with what was printed in the paper. My father would tell me, "You're getting a head start on your math because you already know how to do percentages and division." Now, almost fifty years later, my job is running numbers and statistics at a financial company, so I guess he was right!
Why did you decide to start blogging about D.C. baseball history?
My interest in baseball history grew out of my love of statistics. Over the years there have been a number of different professional baseball franchises from Washington, but I couldn't find a comprehensive record of the players' stats from the various D.C. teams. In the summer of 2006, I used Baseball Almanac to compile stats on every player to ever play for a Washington professional baseball club, minus the Negro League Homestead Grays because when I was doing this we just didn't have those statistics.  
I thought it was important to share these statistics so fans could appreciate the history of baseball in Washington. Even though we've had only one World Series winner – the 1924 Senators – we have a special baseball history in D.C., especially with the political connections. Since we didn't have a team from 1971-2005, pretty much anyone younger than I am – I'm 56 years old – grew up rooting for the Orioles. They don't remember the Senators, which I think is a shame.
I reached out to Ian Koski, the owner of the Nationals Pride blog, to see if he would be interested in sharing historical statistics that I'd compiled and he jumped at the offer. A little while later, Ian asked if I'd be interested in doing a "This week in D.C. Baseball History" column on the blog. I started doing that and it turned into more of a daily blog as the years went on. Nationals Pride lasted for a few seasons and then they changed their name to Nats Daily News. I was blogging with them until 2011, when the site shut down and I started my own website, D.C. Baseball History: Yesterday and Today.
Before I knew it, I had about 10 contributors to my website, including Art Audley who did a lot of research on every player that ever played for the Washington Senators from 1901-1971. He researched the players' birthdays, death dates and details about their lives. Even if a player had played only a few games for the Senators, Art was able to find something about him! It's great, because it allows us to post something different almost every day of the year. There are not many of the old Senators still living, so it's important that we track them.
What are some of the most interesting bits of history you've covered on the blog?
We've written about all sorts of different stuff. For example, in 1861, a baseball club from Washington played the New York regiment before that regiment fought in the battle of Manassas. A few years after the Civil War, the Washington Nationals had a touring team that went out west to St. Louis and Ohio. They played 13 or 14 games and only lost one game.
One thing I'm particularly proud of is the large video collection we have on the blog. We have video pieces about the Homestead Grays, the Senators and the other clubs that have played in Washington.
I think there's a niche market for my website and I'm more than happy to fill that niche!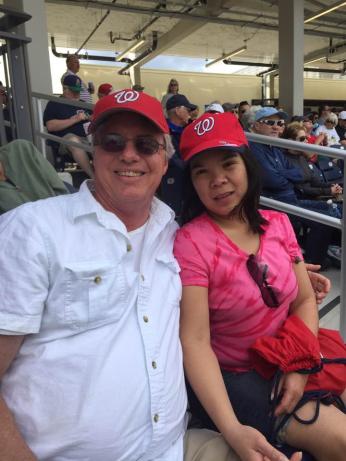 How did the idea for the annual D.C. Baseball History Meeting get started?
A few years ago, Art Audley wrote a post on one of the Washington Baseball History Facebook groups that it would be fun to get people together in person to talk about D.C. baseball history. No one really jumped at the idea at first, but I replied to him and volunteered to organize it. I contacted some of the contributors to my blog and asked them to speak.
We held the first meeting in 2012 at a bar in Bethesda. We had 50 people squeeze into a back room, and people were really excited about it. It's just grown from there. We're now in our sixth year and I rent out a conference room at a local hotel. For the past couple of years, we've added a dinner in addition to the regular daytime meeting. At the dinner, folks can visit more closely with the old players. It's really special.
How do you put the meeting together?
Each year we try to make the meeting bigger and better. In the months leading up the meeting, I reach out to special guests – old Senators players, journalists, authors and others with knowledge of D.C. Baseball – and try to create a program of speakers that people will enjoy. My wife is very understanding! We pay to fly out-of-town speakers to Washington, so that they can participate. We also rent the space at the hotel.
It's important to me to keep this as a free event. I don't want anyone not to attend because they couldn't afford it. Hopefully we can keep it going and keep it growing. This year, we'll have a raffle with some autographed baseballs and other collectibles, which will help cover the costs.
We've also had some great partners including local artist John Yim, who does original pieces of art to give to our speakers and guests.
When you reach out to the old Senators players and ask them to take part in the meeting, what is their reaction?
I've been amazed. Most of them jump at the opportunity. What I've found is that as these gentlemen are getting older, they want to share their stories and most don't have many avenues. If they are Hall of Famers, sure, people are always asking them about their stories. But, for those who aren't Hall of Famers, there aren't too many people knocking on their door. So, it's fun for them to come to the meeting to share their stories and have the light shine on them one more time.
What do attendees enjoy so much about the D.C. Baseball History meeting?
The people who come love hearing and sharing their stories from the past. And, at the same time, they love to share their appreciation for having baseball back in Washington. The people who attend the meeting are die-hards. They are Washington baseball junkies! There's one gentleman who's going to drive eight hours from Tennessee to attend the meeting. There's another father and daughter who are coming down from New York City. People get really excited.
What motivates you to put on the meeting?
One of the reasons I do it year after year is that I've met so many interesting people through the process – from old players, to newspaper writers, to fans who attended games back in the '50s. They all have such interesting stories. Seeing the joy of the attendees just drives me to want to do it year after year.
I do the event for a few other reasons, too. When I was a young guy, I used to drink and party a lot. The way I see things now, back then I was a taker from the community – I wasn't a giver. Ever since I quit drinking back in 1990, part of my redemption for my past was that I wanted to be a giver to the community. This meeting is an opportunity for me to give back and provide something for others.
Do you think the Nationals do a good job of celebrating Washington's baseball history?
Quick story... When the 2007 season started, I looked at the schedule to see if the Nationals were playing at home on August 2, which was the 100th anniversary of Walter Johnson's major league debut with the Senators. I thought it would be pretty cool if the Nationals commemorated that anniversary. There was a game that night but nothing on the schedule about Walter Johnson, so I emailed Stan Kasten who was the President of the team. I actually had to guess his email address but it went through! I wrote him a couple paragraphs about what August 2, 2007 would mean to some older Washington fans. To my surprise, I got an email back from him telling me that the head of marketing would be reaching out to me. It turned into a pretty special evening. Walter Johnson's grandson and his mother were there to throw out the first pitch. Stan Kasten actually stopped by my section (428 at RFK Stadium) that night to say hello, so that was pretty cool.
With that said, I don't think that Nationals do as much as they could to commemorate the old Senators and Grays. Also, it would be nice to bring back some of the old Nationals players who were on the team when the franchise returned to D.C. in 2005. I think fans would love to see players like Ryan Church, Nick Johnson, and Jamey Carroll come back. I've always admired how other franchises like the Orioles celebrate their alumni. Hopefully we can do the same in Washington.