In its 220-year history, the White House has hosted many pets. Almost all of the presidential families to live there have had them—brought with them from their previous homes or adopted during their residencies. There are the conventional choices: dogs and cats, some of them just as famous as their owners. Lots of birds, too—James Madison's parrot actually outlived him, while Abraham Lincoln's son famously saved the turkey intended for Christmas dinner.[1] Presidents who saw military service, like Ulysses S. Grant, brought their favorite horses to live in the White House stables. And those with many children and grandchildren, especially Theodore Roosevelt, had huge menageries of exotic animals.
But, in my opinion, none of these presidential pets measure up to Calvin Coolidge's hippopotamus.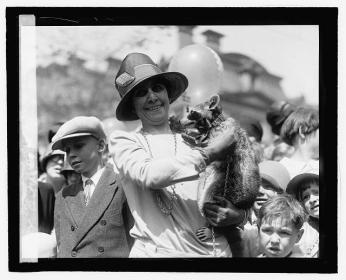 Calvin Coolidge and his wife, Grace, were animal lovers. When they moved into the White House in 1923, they filled the grounds with their dogs, cats, songbirds, a goose, a donkey, and more. They were a private family, so the local newspapers didn't take a special interest in the animals—that is, until 1926, when the Coolidges adopted the raccoon that was sent as a gift for their Thanksgiving dinner. They named her Rebecca—at Christmas, they gave her a leash and collar that styled her as the "White House Raccoon."[2] The local press fell in love with her and enjoyed reporting her antics: playing hide-and-seek with staffers, unscrewing lightbulbs, even participating in the 1927 Egg Roll. They were heartbroken when the Coolidges decided that Rebecca was better off in the Rock Creek Zoo (the National Zoo), where she could have some freedom. The Washington Post lamented that "the sorrow that visited Rebecca's heart must have been overwhelming. But with characteristic…stoicism, she bore it without a whimper."[3]
To make up for the loss of Rebecca, the Coolidges' friends and supporters began sending them even more exotic replacements. The Mayor of Johannesburg, South Africa gifted them two lion cubs and a baby antelope—the cubs went to Rock Creek Zoo right away, but Grace kept the antelope at home for a few days before determining that it also belonged in the zoo.[4] They were soon joined by a bear, wallaby, and bobcat. And on May 26, 1927, the Coolidges learned that the Firestone Tire and Rubber Company had captured a baby pygmy hippopotamus for their collection.
It wasn't exactly ethical practice—the hippo's home in Liberia had been destroyed by one of Harvey Firestone's rubber plantations.[5] Nevertheless, the Coolidges were delighted by their new addition. Now experienced owners of exotic animals, they decided that the baby hippo—already six feet long and three feet tall—would go right to the Rock Creek Zoo.[6] When he arrived in June, he was named William Johnson Hippopotamus—or "Billy," for short.
People loved Billy even more than they loved Rebecca. Before pandas became the celebrities at the National Zoo, this baby hippo drew all the media attention and crowds of locals. Even The New York Times kept their readers updated, reporting that Billy had "made a host of friends" since his arrival in D.C.[7] He was apparently a very charismatic animal, "as frisky as a dog," and a favorite of the zookeepers.[8] Of course, his status as a presidential pet added to his notoriety and popularity. The Coolidges visited Billy—and their other donations—frequently and took active interest in his care.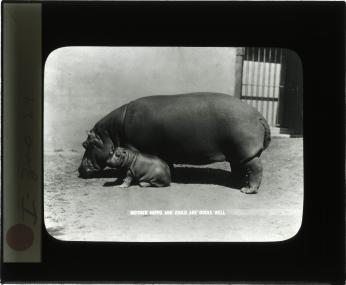 Billy was also popular because, at the time, pygmy hippos were extremely rare in the United States—he was, therefore, one of the most valuable animals the zoo ever received.[9] Standard practice was to keep one example of an animal for display and then replace it as needed, but Billy's potential worth as a stud couldn't be ignored by zookeepers.[10] After remaining a bachelor for two years, Billy met his first mate, Hannah, in 1929. Their attempts to breed weren't successful at first, partly because of zookeepers' inexperience with the species. Hannah's first three calves didn't survive. When she accidentally trampled one to death, the Post reported that "she's just a bad mother"—ignoring the fact that, until their permanent home was built, the hippos were living in the same building as the lions.[11]
Once zookeepers moved Hannah to a stress-free environment, D.C. finally got their baby hippo. Billy and Hannah's first calf to survive, a female, was born in 1938. Just as we celebrate the birth of every new baby panda, Washingtonians went crazy over the new calf. Crowds swarmed the zoo, wanting their first look at Billy's daughter. When one little girl commented that the calf looked like "a big licorice gumdrop," the name stuck—zookeepers called her Gumdrop.[12]
As popular as she was, Gumdrop didn't totally eclipse her father. Billy traveled to the 1939 World's Fair in New York City, where he was a popular attraction in the Firestone display. In 1940, the zoo acquired another mate for him, named Mathilda, and kept encouraging him to breed. He became one of the most valuable studs in the country, siring eighteen surviving calves in his lifetime—all females, but one.[13] The zoo established the tradition of naming them Gumdrop, followed by a Roman numeral. The last of the calves was Gumdrop XVIII, born in 1956. When they grew up, the Gumdrops were sent to other zoos all over the country.
After twenty-eight years in Washington, Billy died in 1955. He had become one of the most famous animals in the country—and, certainly, the most famous in Washington. His descendants continued to live in the National Zoo until the 2010s, when their exhibit was replaced by the current Elephant Trail.[14] His greatest legacy, though, is as the grandfather of American hippos. The majority of pygmy hippopotamuses in American zoos can trace their lineage to him.
So what makes Billy the most dynamic of presidential pets? He certainly isn't as well known as others. But in his day, Billy was a celebrity and a staple of Washington culture—rivaling the popularity of Mei Xiang and Tian Tian today. Even after Calvin Coolidge left the White House, Washingtonians got to keep his hippo.
In his former hometown, I think William Johnson Hippopotamus needs to be celebrated more often. I hear the football team is looking for a new mascot…
^ Gilbert King, "The History of Pardoning Turkeys Began With Tad Lincoln," Smithsonian Magazine (November 21, 2012), https://www.smithsonianmag.com/history/the-history-of-pardoning-turkeys…
^ Matthew Costello, "Raccoons at the White House," The White House Historical Association (June 8, 2018), https://www.whitehousehistory.org/raccoons-at-the-white-house
^ "President Parts Company with Coon: Rebecca Shipped to Zoo to Be Caged with Others of Her Species," The Washington Post (March 17, 1927).
^ "Coolidges Send Lions and Antelope to Zoo," The Washington Post (April 29, 1927).
^ "Baby Hippo for Coolidge is Coming From Liberia," The New York Times (May 27, 1927).
^ Ibid.
^  "Coolidge Pets Could Make Zoo of Their Own," The New York Times (August 28, 1927).
^ Ibid.
^ Ibid.
^ Marguerite Roby, "Goody Goody Gumdrops," Smithsonian Institution Archives (September 25, 2012), https://siarchives.si.edu/blog/goody-goody-gumdrops
^ "Pygmy Hippo Kills Its Third Offspring," The Washington Post (May 5, 1933).
^ Roby, "Goody Goody Gumdrops."
^ Ibid.
^ Ibid