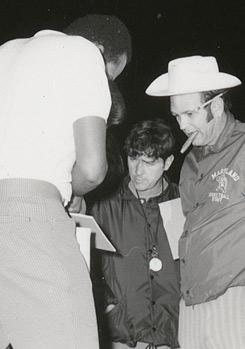 Coaches are always looking for an edge on the competition but former University of Maryland basketball boss, Charles "Lefty" Driesell may have been the best – or at least the most original. Case and point: October 15, 1971.
In an effort to keep everything fair and just, the NCAA has rules. [Insert your own joke here.] One of those rules concerns when teams are allowed to begin practicing at the start of a season. In 1971, the magic date was October 15 and Driesell wasn't about to let any time go to waste.
So, at 12:03am – when presumably the competition was sleeping… or doing what college kids do in the wee hours of the morning – he blew the whistle to start his team's first practice. In doing so, he unknowingly created a fad, which took off – first at Maryland and, soon, at other schools. Today, "Midnight Madness" events attract sellout crowds to arenas all over the country, and involve everything from dunk contests to pyrotechnics to DJs.
The inaugural midnight practice was decidedly tamer than most of the celebrations you'll see these days. In fact, it didn't even involve a basketball. Instead, Driesell had his players complete in a timed one mile run, which everyone was required to finish in under six minutes. (Those who didn't would have to keep running the timed mile until they passed the test.)
Since it was midnight and, thus, dark outside the coaches pulled their cars up close to the Byrd Stadium track and left the headlights on. As the players circled the track, a small crowd formed to cheer them on. As The Washington Post described it in the morning, "Just before midnight last night, about 75 or so Maryland students who were drinking beer and eating ice cream at an outdoor dorm mixer suddenly found something much more exciting to do. They sprinted over to Byrd Stadium to watch a bunch of guys in sweat suits run around the track. Those students formed the largest audience ever for a 12:03am practice by the University of Maryland basketball team."
As Lefty told Sports Illustrated years later, "It was a motivational thing more than anything else. I knew we were gonna have a pretty good team. I told the players, 'Look, we're gonna start the first practice this year of anybody in the country, and we're gonna be playing in the last game for the national championship."
Unfortunately, those lofty predictions did not come true, even though Maryland had a great season and finished 27-5. But, the 1971 season started a tradition. The following year, the midnight mile attracted a much larger crowd. And, in 1973, Driesell changed the script to so that the season opening midnight practice was a scrimmage at Cole Field House open to the public. More than 8,000 fans packed the arena. Midnight Madness was born.