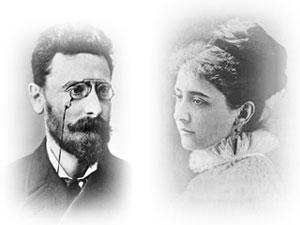 Here's a fun piece of trivia. America's most famous newspaper publisher, Joseph Pulitzer, than man who is often credited for rise of modern journalism, was married here in Washington on June 19, 1878.
His bride was Miss Kate Davis of Georgetown, a cousin of Jefferson Davis, the former president of the Confederacy. (I wonder if cousin Jefferson knew that Pulitzer had fought for the Union army during the Civil War. In fact, his immigration expenses from Hungary to the United States in 1864 were paid by Massachusetts military recruiters!)
Not surprisingly, the wedding was reported in the newspaper.
"Happy is the bride that the sun shines on," is Love's proverb, and fairer sunshine June never showered upon her roses than that which all day long shone on Miss Kate Davis' wedding day. She deserved this signal favor, for a more gentle and lovely bride was never led to the altar than she who, yesterday evening, was united in marriage to the man of her choice. Miss Davis is a native of this District, a near relative of Jefferson Davis, distinguished in the society of the most cultured and refined, amid which she has moved with exceeding grace, and is regarded as its most beautiful ornament. Hon. Joseph Pulitzer, upon whom has fallen the great gift of her heart and hand, is a citizen of St. Louis, and a gentleman who has risen to distinction and wealth by the force of his own independent character both as orator and writer. They were married at the Church of the Epiphany, by the Rev. J.H. Chew, rector of St. Alban's, Georgetown.
We don't often see this sort of flowery language in modern day newspaper wedding announcements. But, I'm guessing the over-the-top description might have made Pulitzer happy on his big day. After all, he was no stranger to sensationalism in the press. In fact, a few years after the wedding, Pulitzer purchased the New York World newspaper and grew it into one of the most popular and profitable papers in the country.
Sources
Morris, James McGrath, PULITZER: A Life in Politics, Print and Power. New York: Harper, 2010.
"The Pulliser-Davis Wedding," Washington Post,  20 Jun 1878: 1